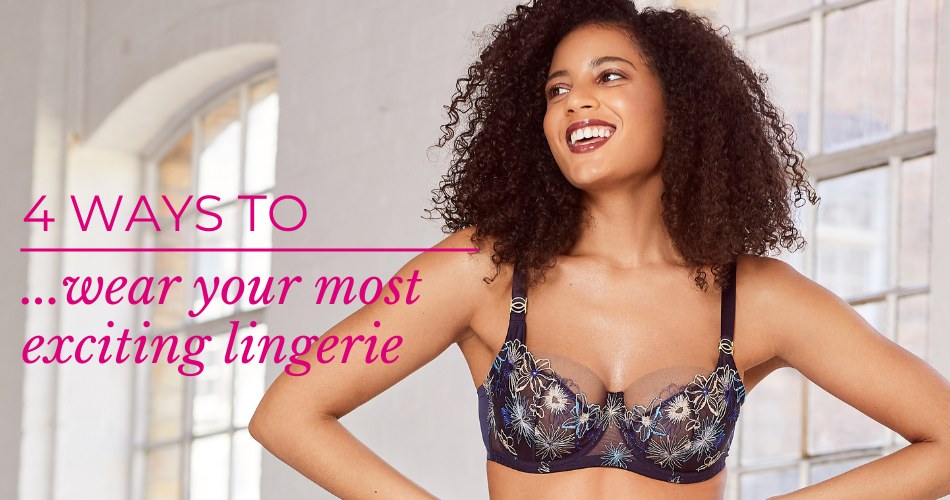 Super smooth t-shirt bras are a staple – even in my own wardrobe.
And having a couple of go-to, I-don't-got-the-time-to-think-about-this sets to slip into is essential to making mornings more manageable. Nothing feels more awkward than having the 'wrong' underwear on and it showing through a shirt at work.
But when wearing 'fancy' lingerie on the regular is fail-safe way to feeling more pretty, powerful, sophisticated and confident – there's always a right time and a place to show off your bra.
Plus with a little creative thinking wearing a bright bra, or some of your more exciting lingerie beneath every-day outfits is easier than you think.
Here are my four favourite ways to wear your most exciting lingerie everyday…
#1 – Letting a bold colour shine through a white tee is a simple summer look everyone can pull off. Pick a punchy colour like pink, orange or yellow and a style that gives good coverage to keep it classy. Then match in accessories to bring the outfit together and not have your bright bra look out of place. (Psst…wearing a bright bra and keeping it entirely under wraps is just as easy, and kinda thrilling. Simply wear a darker top to stop the show through.)
#2 – Bras with strappy décolleté details are designed to be shown off so undo an extra button on your blouse or pair with a v-neck tee for an easy way to wear look that won't reveal too much.
#3 – Wearing a bra beneath a completely sheer top takes chutzpah – but done right looks utterly effortless and gorgeously elegant. Keep the bra (or bustier) detail minimal beneath a detailed blouse but choose a shape that flatters your shape exquisitely for a refined look.
#4 – Animal print straps are my favourite way to show off 'wild-card' lingerie – a glimpse of leopard print across a shoulder is entirely acceptable (and encouraged!). But if leopard isn't to your liking go for a floral, embellished or beaded strap instead. Just match the colour or style with the rest of your look to let your lingerie play a complimentary part to your overall look.
Whether you dare to let a pretty strap peek through a plain tee or savour the secret of wearing a shocking pink set beneath a favourite outfit – adding a playful lingerie set to the mix is guaranteed to super-charge confidence.
Plus, those bright colours were made for bold statements and animal print is practically a neutral!
For more inspiring ideas and expert tips, including the 7 delicate, sexy & beautiful lingerie styles EVERY woman can wear, click here to download your complimentary look-book.
– Sarah C
PS. Thank you so much for reading. If you know someone who'd love these lingerie styling tips click the buttons below to share it.