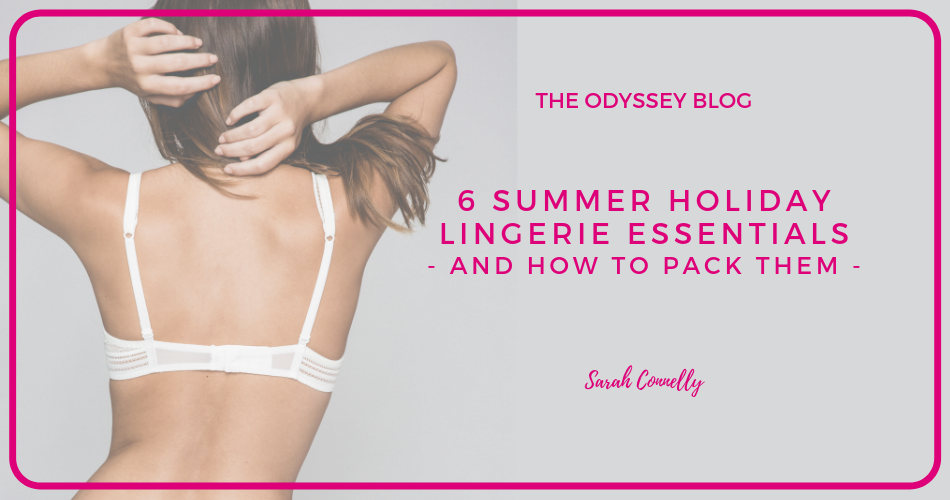 6 summer holiday lingerie essentials – and how to pack them
Whether you're long-hauling for two weeks in a tropical destination or soaking up seven days of Mediterranean sunshine, choosing which bras and bikinis make it in to your baggage can be enough to make you need a holiday!
So to make your get-away as easy as possible here are 6 summer holiday lingerie essentials – and how to pack them…
1.An ultra smooth multi-way bra & seamless pant set
A multi-way bra with two matching seamless pants in your go-to colour (black or blush) is a summer-holiday staple you can wear under everything from a casual cover-up to a cocktail dress. Wear this bra set to travel in to save wrinkling the cups in your luggage.
2.A bright, bold or pretty lingerie set
Whether you dare to let a pretty strap peek through a plain tee or savour the secret of wearing a shocking pink set beneath a favourite outfit, adding a playful lingerie set to the mix super-charges confidence. Plus those bright colours were made for summer nights and tanned bodies. A single bra & knicker is all you need; simply hand-wash as you go.
3.A bottle of Delicate Detergent
A 90ml bottle of Soak Wash lasts around 15 washes – perfect for two weeks away. Designed with your delicates in mind it's ideal for removing salt & chlorine from swimwear too. Keep the bottle in the shower; jump in with your bikini or bra set, lather up, rinse out and leave to drip dry ready for the next day.
4.Two Bikinis
Alternating between two bikinis of varying shapes will balance out your tan lines. If you're checking baggage pack one of them in your hand luggage – should your bag lag behind for any reason you'll still be able to enjoy the sunshine.
5.A Beach Shirt or Cover-up
A button-down beach shirt or cover-up for throwing on over a bikini can be teamed with a wedge heel for casual evenings or sandals for daytime-sight-seeing.
6.A Cotton Scarf or Pareo
This is the Swiss-army-knife of holiday essentials.  Wrap it as a skirt or dress at the seaside, lie on it at the beach or wear it as a scarf on cool nights. Save space in your luggage by wearing it while you travel where it will double as an in-flight blanket too.
Between the best bra to wear while you travel and doubling up your beach throw as a blanket, packing these 6 summer holiday lingerie essentials guarantees a capsule wardrobe to cover every eventuality. And leaves plenty of space in your bag to bring home a souvenir!
Thank you so much for reading. Know someone who could use some tips on packing light? Click the buttons below to share it.
Always a pleasure.
Sarah C
To be the first to read The Odyssey Blog (and for priority notice of special events and limited edition collections); click here to register and have it delivered discreetly to your inbox weekly.