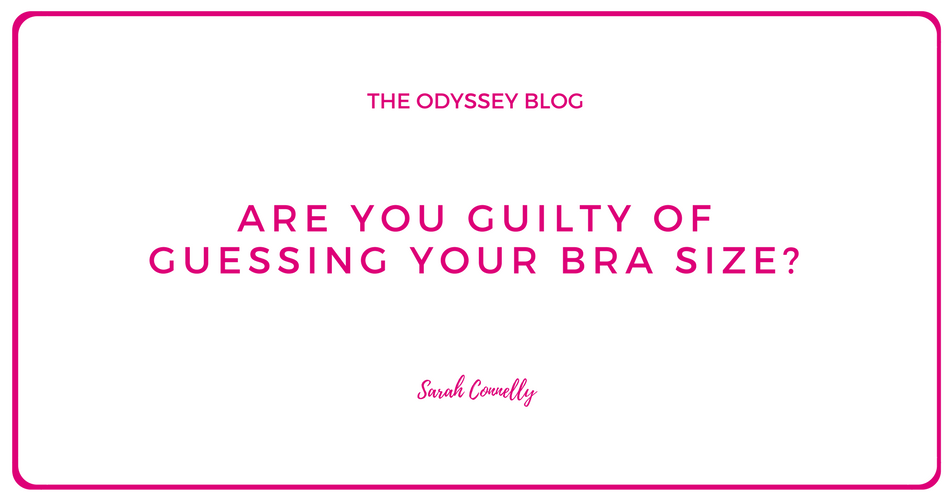 It's the most common mistake women make when bra shopping; guessing their bra size.
Most girls are fitted by their mum as they reach first-bra stage; usually in a classic 34A. Then as breast size increases she'll naturally reach for a 34B and continue to up the cup size as her body develops. Or, if the back feels snug, she'll move to a 36.
But bra fitting just doesn't work like that.
It's not complicated but it is more complex than simply switching from A to B cups.
For example if a woman typically wears a 34C and sees the cups are gaping, upgrading to a guess-timated 34D is not the way to go. In fact gaping cups are more often a sign the cup is too small!
But without inviting a woman into my fitting room and properly aligning her cup size and back band in proportion, I couldn't (or wouldn't) give a definitive size recommendation.
I freely share my tips on how to check whether you're wearing the right bra size; and a quick Google search will unearth thousands of (wildly inaccurate and archaic) measuring methods. But not a single one will help you define your actual size.
In my own fitting room I don't use a tape measure, or a mathematical formula because there just isn't one.
Instead I run through my fitting check-list (band, cups, shoulders, ribs) for each and every bra, for each and every client.
But this isn't guess work or trickery. I'm not inching toward perfection through trial and error.
It's a decade plus of fitting women for lingerie every day and knowing from their physical reaction –  sheer relief and sublime comfort – that a millimeter here or there makes a good bra a really great bra.
The only scientific or maths based fitting tip I can proffer is that dress sizes and bra band sizes are closely linked eg. a 34 bra band is a dress size 12. Approximately. But where does that leave the legions of women who wear oversized clothing to fit a fuller bust? Exactly.
As I said, bra fitting isn't complicated, but it is complex.
So if you're guilty of guessing your bra size. If you gleaned your bra fitting knowledge from your mum, or your nan, or by comparing yourself with your best friend. If, now, you're ready for a proper fitting click here to book a Lingerie Fitting & Styling appointment and let's find you a bra so perfectly fitting you'll never want to take it off.
Or to check at home whether you're wearing the right bra size click here to take my Bra Fitting Quiz. 
Save
Save
Save
Save
Save