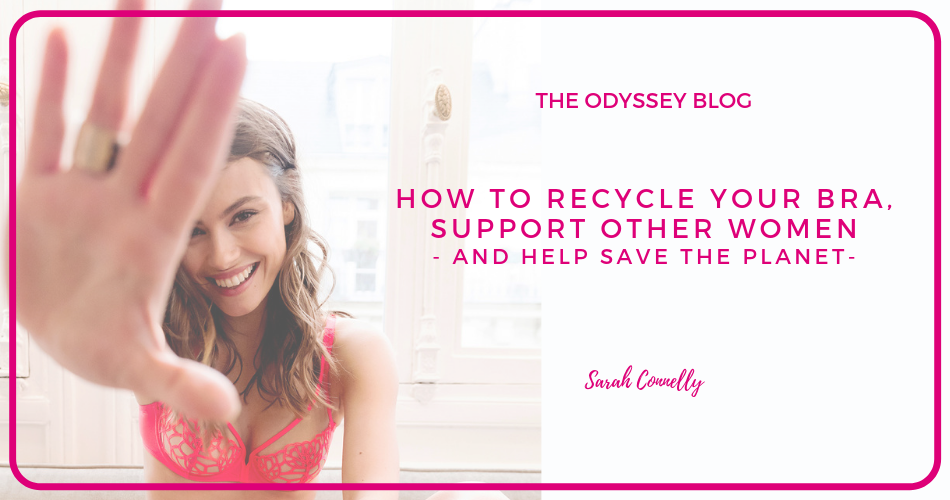 How to recycle your bra, support other women AND save the planet
When a favourite bra is past it's best, letting go and tossing it in the trash is tough.
Not just because this beautiful garment still feels too good to be buried underground when it might (just might) have a few good wears left, but because disposing of our delicates responsibly is the right thing to do.
Understandably high-street charity shops won't collect old undies but there is still a way to recycle your bras, support other women  and save the planet too. Here's how…
Join the Bra Amnesty
Your beloved old bras (whether still wearable, or clearly ready for the chipper) are, quite literally, worth their weight in good deeds and The Bra Amnesty is a chance to dig them all out, trade them in for charity and treat yourself to something pretty special in the name of supporting other women.
Recycle your old bras
Every donated bra is transferred, via local charity Smalls for All, to women in Africa who'll re-trade your barely worn bras in their own small businesses, or re-invest the money raised from recycling the textiles to their own community projects.
Meaning not only will you be supporting women around the world (inspiring independence, security, health & welfare), but you'll play a part in saving our planet by sending less lingerie to landfill.
Plus by checking in for a special edition Bra Amnesty fitting appointment I promise to find you new lingerie that's such a pleasure to wear you'll never want to take it off AND you'll bag my special bonuses (more about those later).
It's a win-win-win for womankind.
And whether you're an A or an F cup – donating your old bras will help women in Africa.
No matter what brand or where you bought 'em, if they're see-through & sexy, battered & beige or well-worn with an underwire missing…
Don't just bin your old bras – trade them at the Bra Amnesty for something altogether more sensational, support women around the world, send less lingerie to landfill AND bag some sweet bonuses.
The Bra Amnesty at Odyssey is a once a year event not to be missed, so gather up all your old bras and get on the list here to be the first to know when the Bra Amnesty opens again.
Always a pleasure.
Sarah C
Know someone with a bunch of old bras they'll never (or should never) wear again? Tell them about the Bra Amnesty by clicking the buttons below to share this blog with them. Thank you!