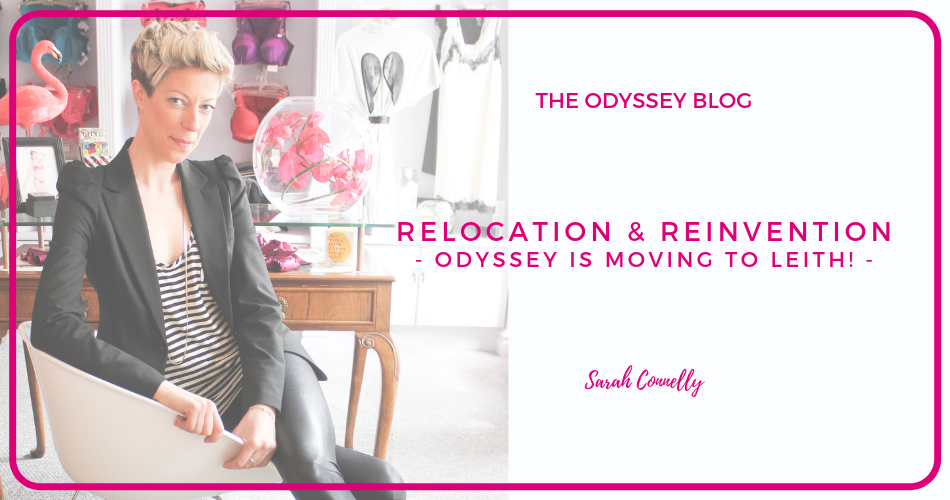 Relocation & Reinvention – Odyssey is moving to Leith!
In case you've been hiding (or on holiday) you might have heard Odyssey is moving.
That's right, after nine years in the West End Odyssey is wrapped up the William Street boutique on Saturday 20th July 2019.
And it's not just the boutique as it looks that I leave behind.
After many years navigating traditional shop-ownership Odyssey's new home is at a luxurious Leith location. (Yes, Leith!). And as part of this relocation-reinvention the Odyssey Studio will be entirely by appointment only.
But wait!
Before you unsubscribe or wave goodbye to the convenience of dropping by a traditional boutique for your lingerie fitting fix let me show you how this sexy new studio set up is even more up your street than you might think.
Way back in 2010 my aspirations for Odyssey were very different and diving into a dedicated shop space with room for all my dreams was right. But over the years getting to know you, learning what you like and loathe about lingerie shopping, and having a front row view on the changing face of retail – I know this next chapter is going to charm the pants off you even more.
In the past few years you've seen me transform a typical drop-in shop to a tailored fitting service that promises to find you lingerie that's a pleasure to wear.
But with a big beautiful shop front that captures everyone's attention it's been tricky explaining why when one client is semi-naked in the fitting room it's not appropriate to let another in for a look around.
Plus as overheads escalated and I was forced to turn away collections just to make rent (a potentially catastrophic catch-22 but one I'm proud to have made it through); making the decision to move to a dedicated private studio has been so much easier and frees me up to invest in even more exciting lingerie I know you'll love.
I set out to make lingerie shopping an inspiring and sensual experience and the William Street boutique stopped offering the intimacy needed for such a special service a long time ago.
But I know what you're still thinking…
Leith?!
But have you been?!
Leith is to Edinburgh what Shoreditch is to London and Brooklyn to New York.
It is buzzing with life (that might have something to do with the speciality coffee served on every street); it's less than a five minute cab ride from the city centre and on-street parking is free!
It's awash with achingly cool hang-outs from under-cover cocktail bars to Fingal's five-star floating hotel.
A far cry from its Trainspotting stereo-type Leith is now the city's coolest neighbourhood – and Odyssey's discrete studio is located in a stunning converted warehouse in a quiet cobbled courtyard.
Climb the cast-iron stair to your private lingerie dressing-room  where I promise to indulge you in the most inspiring collections (with a side of Champagne) and catapult body-confidence to a whole new stratosphere with sets that make you look all oohhh  and feel all aahhh.
And with no interruptions in this elegant hour of you time – whether you want a simple set for every-day or an extra special something for-one-night-only – you'll love what Odyssey's new Leith studio has in-store for you.
The Odyssey Studio opens on Constitution Street this summer exclusively by-appointment; plus plans are already in progress for pop-up's from Edinburgh to Eivissa and a dedicated concierge service for Gents.
Without hesitation this is the most exciting chapter I have ever embarked upon; the opportunities are endless and I hope you'll always be a part of Odyssey's story.
Always a pleasure.
Sarah C
Click here to be the first to book a one-to-one lingerie fitting at Odyssey's luxurious new Leith Studio and let's find you lingerie that's such a pleasure to wear you never want to take it off.