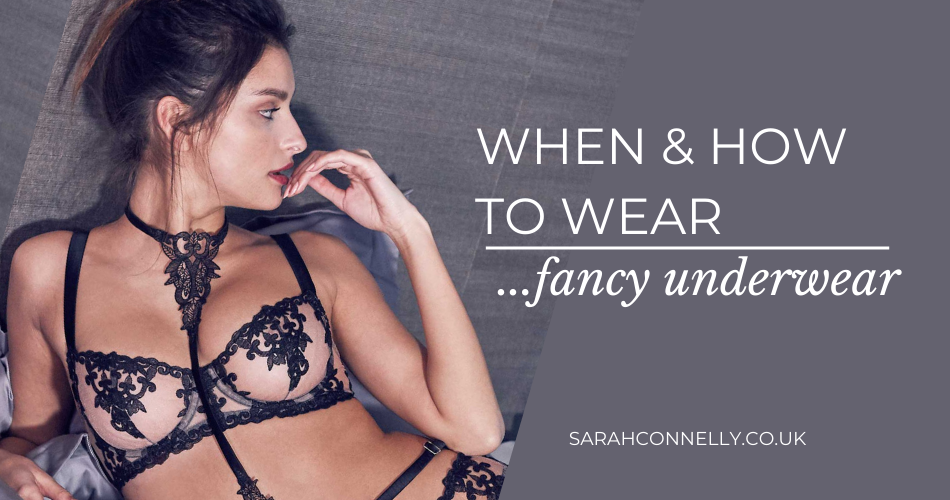 Reserved for racy nights and special occasions lingerie is typically thought of as the erotic, unwearable sister to 'practical' underwear. But as a lingerie aficionado I'm always looking for new ways to wear fancy underwear and encouraging women to experiment.
Sure, those bow-bottomed panties will protrude through a pencil skirt but with some smart thinking and clever styling coordinating a look that lets you wear your most favourite & sexy lingerie beyond the bedroom is way easier than you think.
So, in pursuit of any excuse to dress up extravagantly and glamourise our currently static lifestyles; here are my top tips on how to wear your most fancy and 'impractical' underwear for more than special occasions…
#1 – Wrap a waspie, waist cincher or basque over a shirt and wear with a wide-leg trouser to channel your inner Madonna and take power dressing to another level. Defining your waist and amplifying curves this streamlined look is super sexy and perfect for office to after-hours.
#2 – Layer a long-sleeved lace bodysuit with a blazer and push back the sleeves. For modesty, layer a simple black bra or opaque body beneath to reveal the detail on your décolleté, arms and shoulders for a sophisticated evening look.
#3 – Brightly coloured, or boldly embellished lingerie can easily become part of your outfit. Match the details of your delicates back to accessories to pull together a complete look letting bra straps show over a low back or v-neck top, and wear with confidence.
#4 – A favourite sexy silk slip or camisole can easily be converted to daywear. Pull a power skirt & jacket suit over longer length slips, or team an elegant cami top with rough denim, biker leathers or faux fur textures to add depth and a grunge rock edge. Both gorgeous looks for work and weekends.
#5 – Try a high-neck halter bra beneath a shirt or slip a harness over a simple tee to put your more playful pieces to work beyond the bedroom too.
Styling your most special lingerie into an everyday look and finding ways to balance your personal style with what's appropriate for the occasion is an exciting challenge. So, throw open your lingerie drawer, take the tips above and try on a few to see what surprising combinations you come up with.
And forget the rules. If YOU like it wear it.
For more inspiring ideas and expert tips, including the 7 delicate, sexy & beautiful lingerie styles EVERY woman can wear, click here to download your complimentary look-book.
– Sarah C
PS. Thank you so much for reading. If you know someone who'd love these lingerie styling tips click the buttons below to share it.